When I got notifications informing me that six of my friends had joined a group called Stripey the Cub, I had to investigate. Stripey the Cub sounded like a cartoon character, and I couldn't believe there was a cartoon character that I was unaware of.
Turned out Stripey the Cub was a two-month old abandoned tiger cub, who had turned spokesperson for the Save our Tigers movement. At one time, tigers roamed freely in our national parks, today, it is estimated that no more than 1,411 tigers remain in the wild.
When I was a teenager, there used to be newspaper reports on entire villages in the Sundarbans populated by women and children widowed and orphaned by the Royal Bengal Tigers. We do seem to have got our revenge on them- when we spent a weekend in Siriska a few years back, we were told that not a single tiger remained in the national park. The tiger is a beautiful animal- something has to be done to Save our Tigers.
I joined up at the
Save our Tigers website
, but there doesn't seem to be very much anyone can do to save the animals. As long as there is a demand for products made from tigers, as long as the people paid to protect our tigers are in collusion with the poachers, as long as we indiscriminately encroach upon their habitat, they will continue to diminish in number.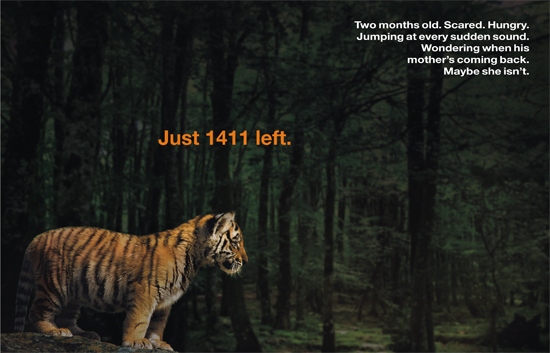 Speak out, create awareness, join the movement - is what the website urges us to do. I am more than happy to do that. The tiger must be protected. The tiger must be saved.
But how?
Last week, there was an article in the paper on how two abandoned panther cubs had been found outside Bombay.
After hearing the story, my older one asked, "Where is their Mamma?"
"Their Mamma is missing."
"And what about their Papa?"
"They don't have a Papa."
"Their Papa is dead?"
"Maybe!"
"Do they live close by, or in some other country?"

"They live near Bombay."
"Then let us bring them here and keep them at home. If their Mamma is missing and their Papa is dead, they will be very sad. If we bring them here, they will be happy."
Maybe we should just leave it to the children to sort out the mess that their parents create. They have something we seem to have lost touch with- compassion.