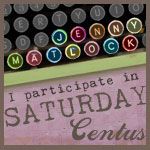 Jenny Matlock
has started what she calls the Saturday Centus. She provides the prompt, and you get to finish the story in an additional 100 words (or less).
Here's her prompt-
My untied shoelace changed my life. As I leaned down to re-tie it, I kicked away a few leaves. When I turned my head slightly to look where the leaves had been, I was astonished to see a rubber-banded wad of hundred dollar bills nestled in a little indention in the muddy ground.
And here is the rest of the story-
I could do so much with the money. My older daughter could have a new dress to wear to the prom. It could pay for my younger one's chess lessons.

But the money could be someone's egg nest- they would hate to lose it.

But if not me, it would be someone else who finds it. A person who hides money in a public place, is asking that it be taken.

Maybe it was an act of charity? A test?

I dig out the money, and give it away to the homeless. One hundred dollar bill at a time.