The most luxurious hotel in the city. The place where you took your girl if you really wanted to impress her- a coffee there would cost more than a dinner at a decent restaurant, but would be ten times as magical.
What were terrorists doing stomping along those elegant corridors? Did they even know that along with all the people they had cowering in the rooms, they were also holding our memories hostage? Is there no place where we can be safe?
I stood frozen in front of the flickering images on my TV. Terrorists had claimed my world. Again.
_____
A
drabble
is a story told in exactly 100 words.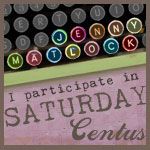 This is an entry for Jenny Marlock's
Saturday Centus # 19
. The post is in remembrance of 9/11, but I have chosen to write about an act of terrorism that took place in another city, several years after the attack on the World Trade Centre. Terrorism is the same everywhere- it leaves numbness in its wake.
The photograph shows the iconic Taj Mahal Hotel under attack. The photograph was NOT taken by me, though it was one of the flickering images I watched almost obsessively on my TV.